Description
ASSrenamer is a file sequence renamer for Atomos Shogun external recorders which generates CinemaDNG sequences with file names like FRM_000001.DNG and batch-renames the squences automatically to more practical names like SHOGUN_S001_S001_T001_FRM_000001.DNG including the parent folder scene and take name.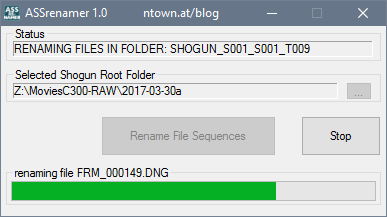 SUPPORTED OPERATING SYSTEMS
ASSrenamer is made for Windows (7/10), but also works on Mac via Winebottler.
USAGE
choose folder where your scene-take-folders of your Atomos Recorder are located (named like

SHOGUN_S001_S001_T001

or similar)
click Rename File Sequences
all file sequences in folder gets renamed to proper names like

SHOGUN_S001_S001_T001_FRM_000001

.

DNG
INFOS & FEATURES
automatically renames CinemaDNG sequences in a given folder from

FRM_000001

.

DNG

to

SHOGUN_S001_S001_T001_FRM_000001

.

DNG

ASSrenamer (Atomos Shogun Sequence Renamer) supports all CDNG file squences from Atomos recorders which records RAW to CinemaDNG (Shogun, Shogun Flame, …)
renames only orginal named "FRM_" sequences and skips already renamed sequences
when renaming is stopped, the tool automatically continues at the remaining files
supports network paths like \\server\files\…
log file named ASS-Log.txt in tool folder for more detailed conversion information
NOTE: This is not a universal batch renamer, ASSrenamer is specifically made for CinemaDNG sequences coming from a Atomos Shogun recorder
please report errors to office@ntown.at
ASSrenamer Workflow Tutorial
Please read NTown's article about the latest Atomos Shogun CinemaDNG update and learn why ASSrenamer exists.

VERSION HISTORY
1.0
– initial version
1.1
– ignores hidden folders starting with . or ~

UPCOMING FEATURES
user selectable scene folders to be renamed
function to move all files to root folder

LICENSE INFORMATION
Purchase includes Free Updates up to the next major version release of the software. For example a purchased version 1.2 is eligible for free updates up to version 2.2, which is normally apx. a year worth of updates.