Beschreibung
Premiere Pro & Speedgrade c-log to linear luminance correction effect preset.
Preset for Premiere Pro and Speedgrade to set lumincance distribution from a canon c-log curve which has a logarithmic luminance distrubution curve back to a linear as it would look like when it has been corrected by a colorist.
This is not a c-log to REC.709 conversion. The effect preset brings down black level shortly bevore it is crushed and the white level is set down to 100% in order to bring back lost highlights which would be in the invisible 101-110% luminance range.
This presets are targeted to productions with no or not much grading budget/time or people who do not want to bother with grading but want to benefit from a c-log recorded material from the Canon Cinema camera range.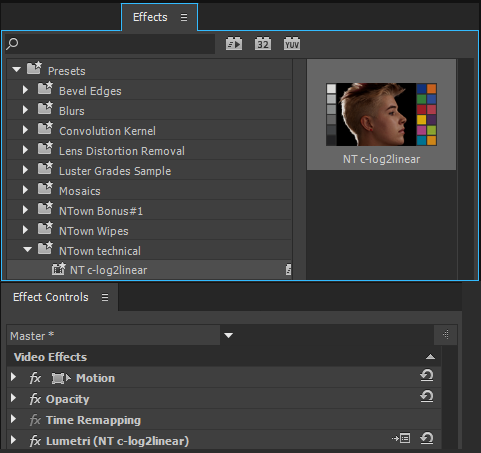 The package includes two presets, one for Adobe Premiere Pro and one for Adobe Speedgrade.
INSTALLATION / USAGE: Premiere Preset file (.prfpset)
In Premiere active your Effects Presets Panel (Window -> Effects or shift+7)
then right-click on the title "Effect" and select "IMPORT PRESETS…"
then import the preset file "NT_c-log2linear.prfpset" from the extracted zip archive.
INSTALLATION / USAGE: Premiere / Speedgrade Looks file (.look & look.jpg)
In Speedgrade import the .looks file via the Looks panel's looks management tabs at the bottom
or directly drag & drop the looks file from the desktop to a clip in your Speedgrade Timeline.
When this effect preset is applied on a clip the following is added to the clip:
Lumetri grading correction effect
To modify the effect you need to load the sequence in Adobe Speedgrade and change the parameters of the primary correction node there.