Preset for Premiere Pro and Speedgrade to set lumincance distribution from a canon c-log curve which has a logarithmic luminance distrubution curve back to a linear as it would look like when it has been corrected by a colorist.
The demand
We see a lot of c-log usage around, people film their material with c-log with their Canon C300's and C100's but I see a bad trend. The material is treat as is, without any grading at all. Not even color or contrast correction. That fact is ringing my quality and style alarm bells.
People wants to use c-log but don't bother to grade the material because of time constraints, budget limits or just plain no technical interrest in grading at all.
That's why I created a simple effects preset for Premiere Pro which the editor just drags over a clip he or she wants to grade, the effect puts a basic c-log correction on the clip and off she goes. With the use of an Adjustment Layer multiple clips at once gets the correction or just put the c-log2linear effect over all clips as Master-Effect via the Source Monitor in Premiere Pro.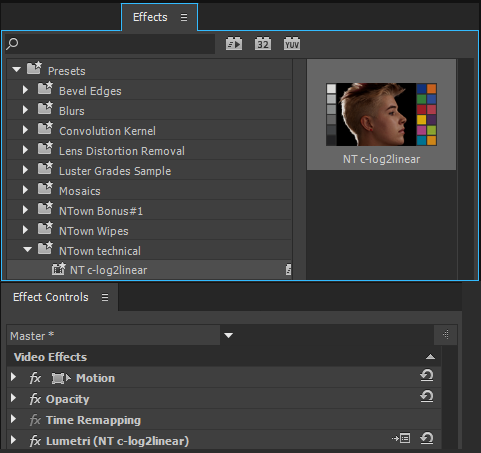 The preset contains a Lumetri Effect which can also be applied to a clip in Speedgrade itself, but if you don't have interrest in grading you propably wont touch Speedgrade.
Why no LUT?
It seems that LUTs do not work out for me and seem to have a significant performance hit on Speedgrade & Premiere to be usable, so the second best way are normal Primary effects that does the trick. The LUTs for Canon c-log I tried (including the LUTs available from Canon itself) does not have the required quality I need, either they crush blacks to much and clip the whites or the luma is simply cut off at 85%!
Why no curves?
I choose to setup the levels and gamma curve via the parametric settings OFFSET, GAMMA & GAIN in the primary node of Speedgrade. That way I have exact numeric parameters which are reproducable. Curves are nice but because they are relatively new to Speedgrade, I want to get a little more backward compatibility to older version of Speedgrade and Premiere Pro for users of older application versions.
The Premiere preset is compatible to at least Premiere CS6 an up.
VISIT SHOP
You can buy and download the product in our online-shop.