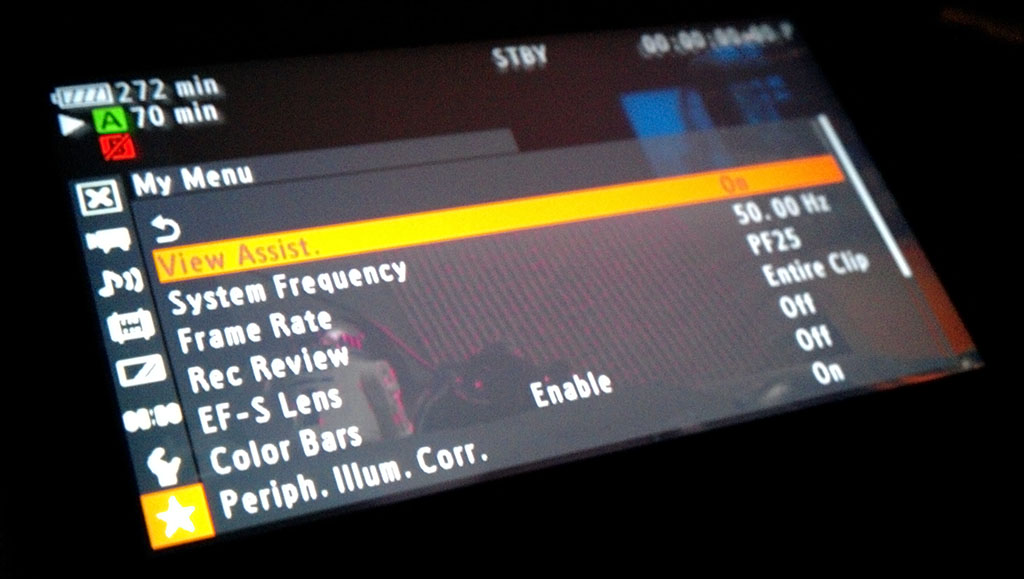 Canon EOS-C100 Tips Collection
In order to get real progressive material out of AVCHD 25PFS/30PFS modes set or interpret the clips to progressive manually in your NLE – the clips are 25p but interlaced in when imported to the NLE using progressive in a interlaced movie container! Real 24p is available when switching to NTSC (set System Frequency to 60hz)
You can not record movies in differnt frame rate (PAL/NTSC) on the same internal SD Card, but you can do so to the external Ninja2!
The C100 cannot record 50p/60p but you can record 50i or 59,94i and later deinterlace with your NLE. It's nearly FullHD and way way nicer and sharper then a 7D's 720@60p!
The C100 can record out to the Ninja2 without a SD Card in the Camera – just enable the HDMI Record Command!
Assign the "My Menu" to assignable function button #14 (Shutter), because you can access Shutter nearly as fast with the joystick navigation.
The user button #8 (Magn.) is perfect for the "View Assist" mode. This is usefull if you film with C-Log and want to quickly switch the "Graded C-Log Preview" on and off.
My personal preference for the "My Menu": System Frequency / Frame Rate / Rec Review / EF-S Lens / Color Bars / Periph. Illum. Corr. / Time Code / ABB / Initialize SD-A
Set your lens autofocus to MF (Manual Focus) if you want to move around the expanded focus assist crop-frame! Otherwise the zoom is locked to the center.
Copy whole SD-Card structure to keep timecode for MTS files intact! At least when using Premiere CC! Ingesting movies with Adobe Prelude is also a good tip to add even more metadata and usefull clip-naming. UPDATE: Premiere needs the folder "BDMV" in order to read the clip-timecode.
The current complete Menu Setting from my C100, including all Custom Picture Profiles in the camera.
Last update: 2013-11-20 – including settings for november 2013 firmware update

Found a typo or mistake, please feel free to inform office@ntown.at. Thanks for reading.
Article written by Patrick Zadrobilek on 17.Apr.2013 (updated: 20.Nov.2013)