The Canon C100 sadly does not have 60p, not even in 1280×720. It just a marketing-strategic move from Canon that people still buy their more expensive C300.
But with a little knowledge in compositing you can extrapolate 60p out of a 60i – interlaced recording.

I call it the 60ip-line-alternating method.
The workflow is as following:
First set you C100 to 60Hz (NTSC) and to 60i recording, and set up your Ninja2 Recorder to 60i too. If you dont have a Ninja2 just use the internal AVCHD codec from the camera – this will work too, but you will not get the same color-edge-sharpness lile from the 4:2:2 Ninja2.
Record your fast motion just normal as you would do with a camera that would be capable of 60p.
Now it starts getting a bit more complicated.
Get your clip in a compositing software like AfterEffects, I prefer Eyeon's Digital Fusion with it's node-based effects-structure.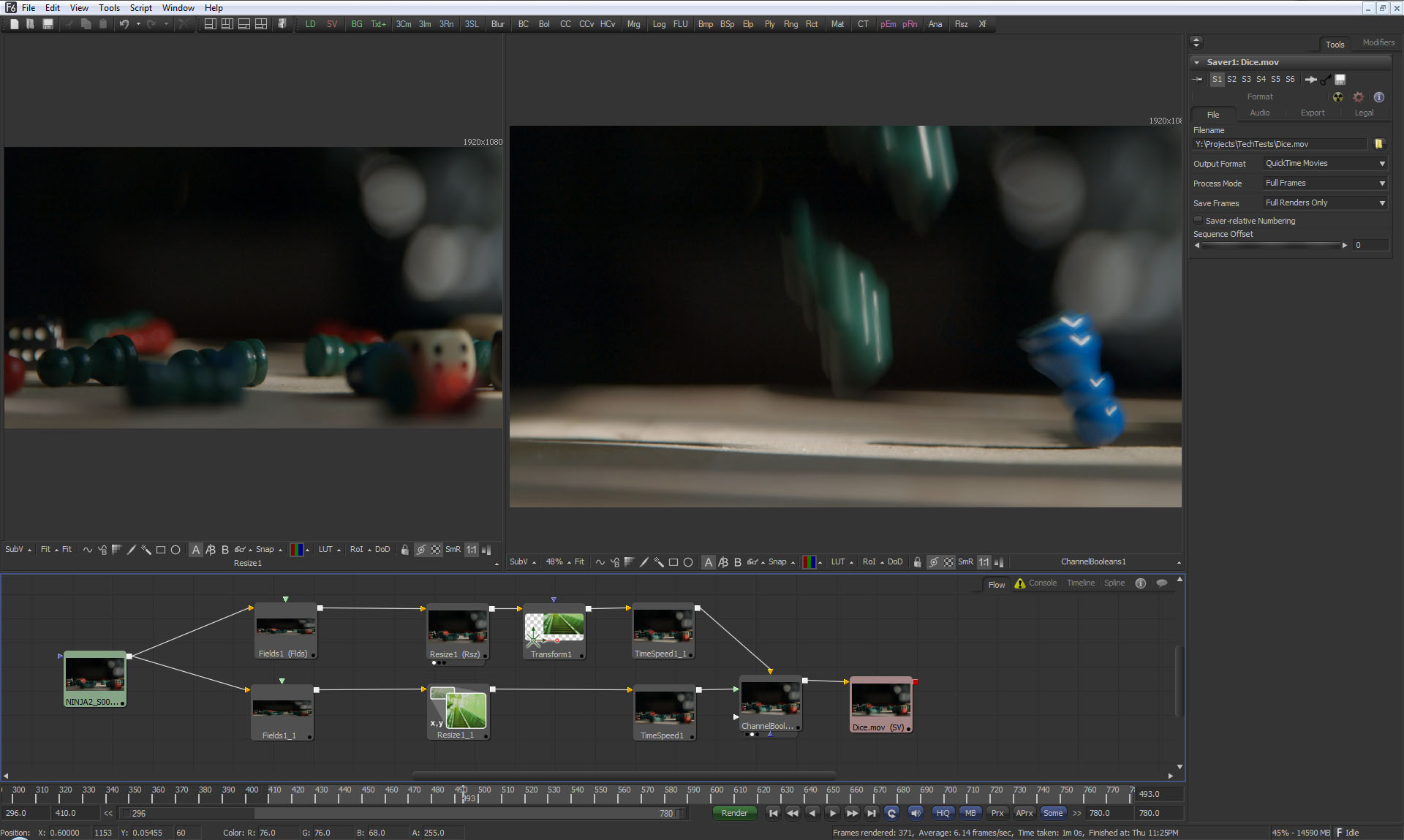 The theory behind it is that we have to extract every other field from the clip, interpolate it's vertical resolution back to the full 1080p with a good scaling algorythm like Lanczos and then move the lower field (or the upper) to the same vertical pixel-line-position of the other field.
The vertical 1-pixel transposal of the second filed compensates the alternating position that would normaly happen when a movie with interlaced fields is played back.
Now the two progressive streams needs to be time-stretched to the target framerate percentage of your slomo-movie.
The last step is to alternate-blend the two streams back together in a zig-zag fashion every other frame to the final sequence.
VOILA!
Now you have a movie that has a 40% slomotion from a 60i interlaced movie recorded with your C100!
Watch my example movie to see the effect in motion. I still have to use it on other situations with sharp structures, but I'm sure it holds well and I think it will look better then 720p.