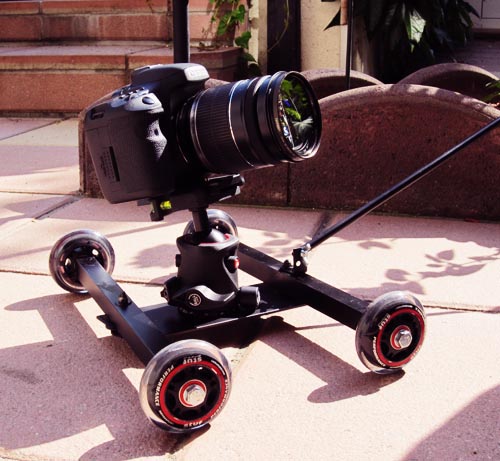 Canon EOS 7D mounted on the LowRiderDolly
Introducing the Low Rider Dolly
The low profile dolly is the newest creation from NTown Productions Manufacturing – a very unique kind of Dolly for small and medium sized cameras!
Steering the dolly with the one meter long handle allows very tight curves. The soft wheels provides perfectly uniform drives on smooth surfaces.
With it's very small footprint the platform holds cameras up to 22lb (10kg)
Teaser from our short film codenamed "PT"
Watch the final short and the making of in my
article
.
Hero Shots
The Idea was to achieve low angle shots while moving the camera like a dolly.
With this system it is possible to shoot dynamic dolly shots from low angles with virtually no setup time.
Mount a field monitor and a remote focusing system below the handle and you have a very cool handy tool for unusual shots.
Spare Parts
Construction started with the idea in head and just a few spare parts left from other equipment contructions. The base plate is made from 3mm aluminium and sturdy enough to hold a bigger tripod or ball heads like the Manfrotto MH054M0-Q5.
The steering mechanism is made from 20x20mm Alu tubes, mounted with rubberwashers for dampening out vibrations while driving. The key elements here are locking nuts, that the nuts are not loosening and falling out while steering.
Action Driver
Mounting the wheels to the alu tubes was a little tricky. It is combination of milling, screwing and glueing with hot-glue to a special plastic part that fits perfectly in the 20x20mm square tubes and holds the wheels pretty good. The bearing from the wheels is great and let the wheels run very smooth!
Between the "axis" and the baseplate a rubber-washer helps smoothing out vibrations and small unevenness on the driving ground.
Booth axis are steerable, one axis has the ability to mount a 6mm aluminium tube with grip to steer the Low Rider Dolly more comfortable.
Nice Curves
The Grip allows different steering techniques. Rotation from top straight down maneuvers the LRD in tight places. Pulling it and let the actor follow the LRD gives great low angle shots.
With a little practice the LRD will be your favorite Camera-Dolly-Rig for low angle shots and on a appropriate floor you will get very nice drives.
The Steering Grip is mounted with a Butterfly-Nut and is easy and fast detachable. The whole Low Rider Dolly is very lightweight and fits in many tripod bags.
With the Grip Handle unmounted you can place the LRD on a table and shot a arc-drive around a character or a product, the possibilities are unlimited.
Dont loose your heads
The VideoHead is mounted with a 3/8″ screw from below the baseplate. Most usefull would be a Ballhead but the LRD fits any videohead that does not oversize the baseplate.
The Canon EOS 7D with the Manfrotto MH054M0-Q5 Ball-Head fits great on the LowRiderDolly and sits very stable with most glasses and the low position on the plate!
We built the LowRiderDolly for our upcoming short movie codenamed "PT" that will come out soon. It was great to test out the little Dolly and it works great!
If you want further information on the creation or usage of the LRD feel free to comment below or email us at office@ntown.at.
See our other gear we use on my company website EQUIPMENT SECTION.