Below are my recommendations for books that have beeing found usefull for filmmakers, most of them I own myself. This list will be expanded once in a while and represents a cross-section of reading material for filmmakers and film enthusiasts alike.
Feel free to order them via my Amazon affiliate and don't forget to read the Amazon shoping tips at the end of the article.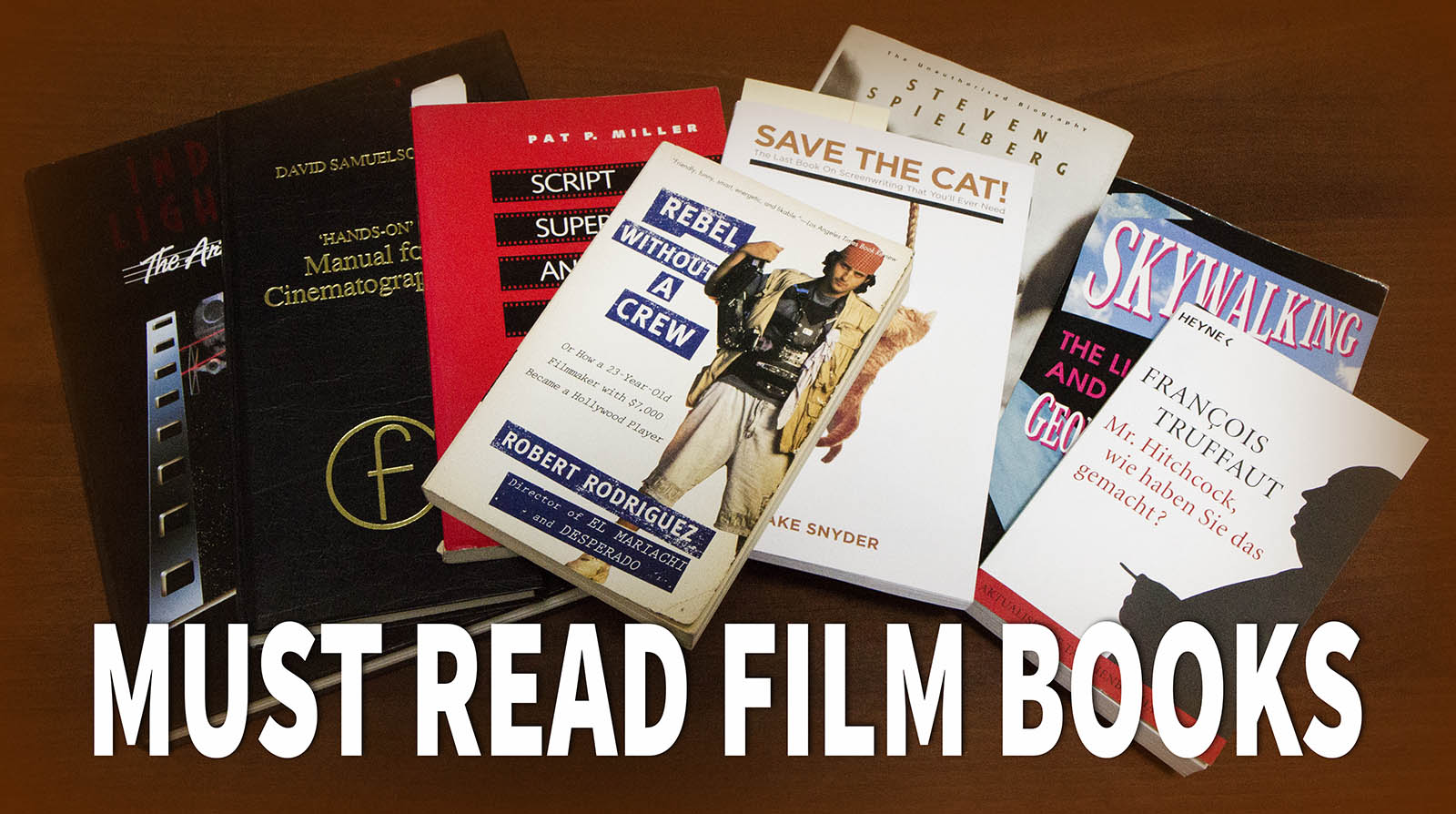 Producing, Directing, Filmmaking in General
Rebel without a Crew: Or How a 23-Year-Old Filmmaker With $7,000 Became a Hollywood Player
Author: Robert Rodriguez

Note: Robert Rodriguez wrote it like a diary, his production diary of his first feature film El Mariachi. Very good read, very informative.
Hitchcock
Author: Francois Truffaut

Note: Truffaut interviewed Hitchcock about his films. A view on Hitchcock and his works.
Writing, Script, Dramaturgy
Save The Cat! The Last Book on Screenwriting You'll Ever Need
Author: Blake Snyder

Note: Very popular and funny book which demystifies some of hollywoods story principles, but take it with a grain of salt and read between the lines. This book can be very helpfull sorting out the great structure of films but does not go too deep into the microcosm of scenes or characters like other books. Fun to read, alot to learn.
Script Supervising and Film Continuity
Author: Pat P. Miller

Note: Good base for screenwriters how to format a screenplay, how to read a screenplay, learn all the techniques to write a screenplay and to read it on set and learn how to supervise a script.
Vienna Filmcoach – Grundlagen der Filmdramaturgie (german)
Author: Ip Wischin

A very personal reccomendation is Ip Wischin's Book about his dramaturgy principles, which he teaches in his numerous workshops in Vienna, Austria.

Click on this link or the cover image to order the book.

Don't forget to visit Ip Wischin's Film-Dramaturgy Workshops in Vienna, Austria at the Vienna Filmschool. Reservations via e-mail neccessary.
Lighting
Lighting for Television and Film
Author: Gerald Millerson

Note: lot's of illustrations, charts, lighting techniques.
Camera
'Hands-On' Manual for Cinematographers
Author: David Samuelson

Note: Detailed manual for analog cinema cameras and cameras in general.
Special Visual Effects
Industrial Light & Magic – The Art of Special Effects
Author: Thomas G. Smith

Note: Simply the best book on special visual effects, made by the masters, Industrial Light & Magic. If you want to do hight-end digital Visual Effects, you start at the beginning of modern Special Effects, with this book.
Biography
Skywalking – The Life and Films of George Lucas
Author: Dale Pollok

Note: The father of modern SciFi and his visions. Very good read.
Steven Spielberg – The Unauthorized Biography
Author: John Baxter

Note: Many fascinating stories about Steven Spielbergs Film and his involvements in other productions and collaborations for example with Robert Zemeckis and others. Very good read.
---
Amazon shoping Pro-Tip #1: Install the Firefox Plugin Keepa Price Comparision Add-On. You see the complete price history on a product and you can set a e-mail alarm if the price of a product is below a user-set level.
Amazon shoping Pro-Tip #2: Best Shoping day and time is sunday evening, the price on many products is lowered around 5:00pm !
---
If you have some good suggestions for the book list, don't hesitate to write it in the comments section below.