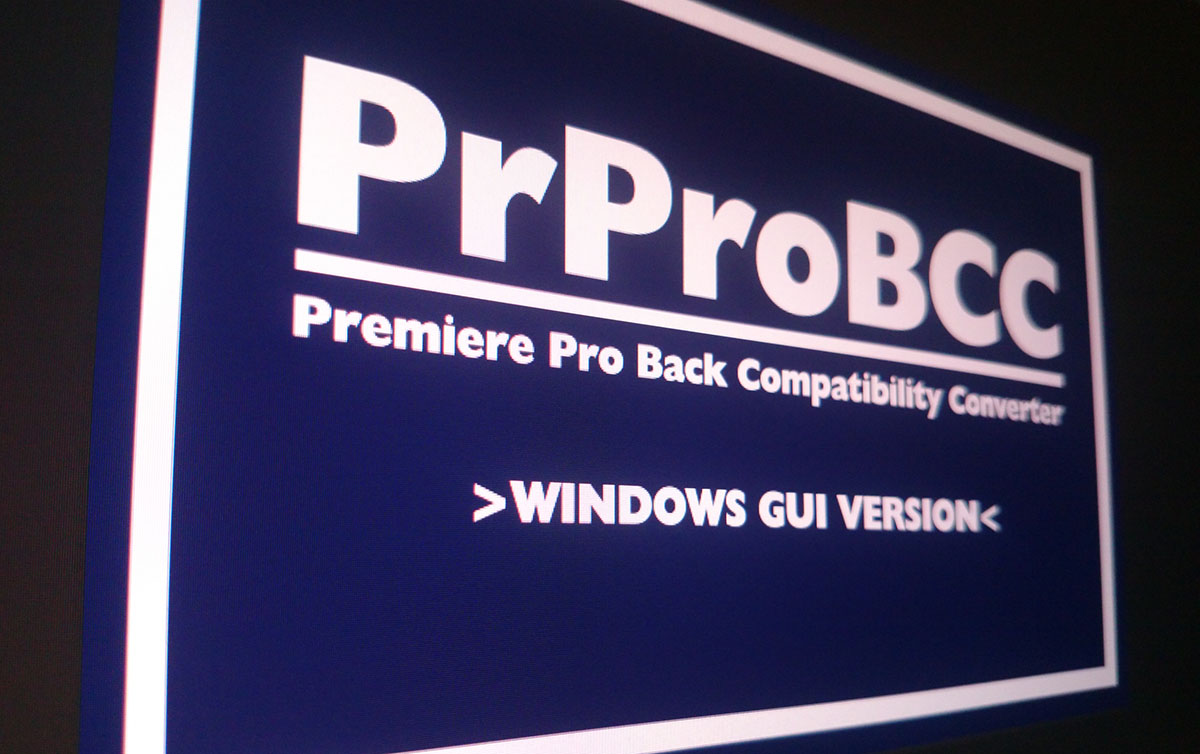 PProBCC converts Adobe Premiere CC project files to be compatible with older versions of Premiere, AfterEffects and Speedgrade
With the help of this tool a Premiere Project saved with the newer version 2018 or even 2021 can be opened in Speedgrade (version 2015.1), grade your project and then saved and reopened again in the newer Premiere version 2021 (or 2018) (older version can also be set).

The Story behind the PProBCC Converter
With Premiere CC version 2017, Adobe has discontinued the Direct Link functionality to Speedgrade CC and with version 2017 finaly officially discontinued Speedgrade, but the Project can still be graded with Speedgrade and creates the Custom Lumetri Layer with the grading information for each graded clip after reloaded into Premiere CC. The last version of Speedgrade is CC 2015.1 and if you want to grade a project made in Premiere CC2021, you just simply can't because Adobe made the new Project file of Premiere CC version 2021 incompatile to older Project files, even to version 2018.
Many editors and color-graders out there were pretty upset, inlcuding me. So what else can we do to continue our work, except of complaing to Adobe? Nothing, right? Wrong. I have written a tool that helps tremendously.

Functionality and Workflow
The tool reads the original Premiere Project file (.prproj) saved with version 2021, uncompresses it and replaces the version string to be compatible with Premiere version 2015.2 and Speedgrade version 2015.1.
The Project file can now be opened in Speedgrade. Grade your project as usual, save the Project file and then just convert it again with the PrProBCC converter (which can be left opened in the background) back to the newest 2021 version format so it can be opened in Premiere 2021 without the notice of an older file format needed to be saved before you can edit it.
INFO: If you close the Converter Tool while a Premiere Project is beeing converted to version CC 2015.2 the converter assumes that the last project which was beeing converted was the latest version which is available from Adobe Premiere (e.g. 2021). Because of this, please keep the converter tool open as long as you have a project file converted to 2015.2 (or any other older version), because the converter does not know what version the last file originally had you converted.
With PrProBCC version 1.6 it is now possible to override the automatic original project file version recognition and set a different project file version matching your version of Premiere CC.
If you're missing some features, let me know and I will implement them if applicable.
Premiere versions compatible with the converter: 2015.3, 2015.4, 2017, 2017.1, 2018, 2019, 2019.1, 2020, 2021 and – when they come – newer versions
How to use the tool:
Save your Project in Premiere CC 2021 (or any project version from CC 2015.3 to CC 2021 and later) and close the project
Start PrProBCC, choose your project file and click convert, leave the PrProBCC Tool open for later
Start Speedgrade CC 2015.1, open your saved Premiere File and color-grade it, when finished save and close the project
Switch to PrProBCC converter and press Reload + Convert, this releads the changed Project File and converts it back to version 2021, leave the PrProBCC Tool open for later
Switch back to Premiere 2021, load the graded Project File, continue editing
Go to first Step if needed
WORKFLOW TUTORIAL VIDEO
PrProBCC Version History
1.9
– Compatible to CC 2018.1 project files

2.0
– supports conversion of 2019 project files
– minor changes for the repeated conversion autoload function
– remove of the override checkox – every version can be choosen from the beginning
2.0a
– bug fix: Reload Project works again
2.2
– – supports conversion of 2019.1 project files
3.0
– supports conversion of 2020 project files
4.0
– supports conversion of 2021 project files
PrProBCC GUI Tool
The tool is available for Windows and can be puchased from my WebShop. There are two versions available, a cheaper command line version and the GUI version with a graphical interface. Check prices at the WebShop.
MacOS Version
There is no dedicated MacOS version, but the Windows .exe can be packed into a Mac .app via WineBottler so the tool also works on MacOS.
Project File Security Backup Function
The GUI version of PrProBCC automatically creates a backup of the original Premiere CC project file with the date and time in the filename, which is placed in the same folder than the choosen project file, so the original project file is never lost, even if something is wrong with the conversion. The single project file solution is the best way to work on a project in Premiere and Speedgrade without having to rename or backup the project files all the time. The tool helps here having always backups of the project files.
When using the command line tool, if the same name is choosen for the input project-file and the output-project-file than a backup of the original project file will be created with the current date and time in the filename.
So nothing is lost before the project file is beeing converted to the same filename.

GUI Version Usage
Extract the ZIP file anywhere you want. Start the PrProBCC_GUI.exe and choose a Premiere Project File to convert.
The Future of PrProBCC
With every new release of Premiere CC there are new features introduced. We editors and color graders want to use that new features, but this makes it very hard for Speedgrade users because even with my PrProBCC converter tool the new features are left out after saving a newer project in Speedgrade.
I'm working on a brand new experimental version of PrProBCC which also keeps all new features of the newer premiere after converting back from the older Speedgrade to the newer Premiere CC.
It is much more than replacing a version string in the Premiere Project file. It's digging deep into the logics of Premiere's Project file structure and connecting all the dots to preserve the full feature range of newer Premiere versions but also use Speedgrade to grade the clips. I still hope that Adobe updates Speedgrade to a current version of Premiere, which would render my converter obsolete, but until then, I try my best to keep my little converter up to date! So stay tuned and subscribe to the newsletter for latest news at NTown.
Get PrProBCC from our WebShop below
---
---
Don't forget to check our Newsletter for special discounts.
---

Loading ...
Download the latest available Speedgrade
For those who still want to use Speedgrade, even if it's dead a few years now. You can download it below. Valid Adobe CC License needed, though.
Adobe SpeedGrade CC 2015 Installer (Windows / MacOS)
Adobe SpeedGrade CC 2015.1 Update (Windows / MacOS)
Adobe Speedgrade offline installers provided by prodesigntools.com